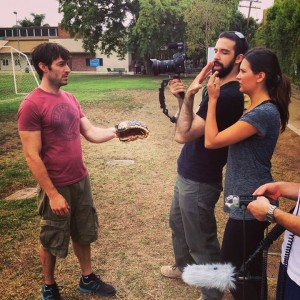 "It's not what you know, it's who you know."
The phrase originally started as a war slogan of Delaware River shipyard workers during World War I. By World War II the slogan was widely used, usually referring to the United States' relationship with the Allies. The phrase also became relevant in Hollywood during this time as an emphasis on networking became (and remains) an important part of career-building for actors. I'm one of the many artists who would argue that it's both. It's not only what you know, but it's not only who you know either. It's like the adage "Luck is when opportunity meets preparation"; you have to create opportunities, but when those opportunities come, be ready. This is why you find a class that you treat like a gym; you workout every week or even every day to prepare. I've always been of the mindset that when you put all your energy into your work, opportunities will come.
What I mean is, when you are focused on your craft … people will notice. Sometimes the work literally is the means to the end. When you are in a class you are surrounded by other like-minded, dedicated professionals. Recently, an actress I know from a class in New York several years ago asked me to audition for her film project. This is not the first time I've gotten auditions in this way. I've gotten jobs, asked to be a part of readings, and invited to events, all by other actors I'm in or have been in class with. I believe these opportunities came because, in class I showed up with dedication and work ethic. I think sometimes we are so focused on meeting the right casting director or the right producer, or having the right agent to get us work, that we forget the resources we already have by simply being a part of a community of other actors. These actors work too. They meet people. They write. They create their own projects. Treat everyone you meet in class as a professional, as "someone you should know." Treat your class as your job. When you do, the people "to know" will take notice.