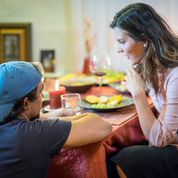 Well Top Studios filming of the short "Death of a Boy" went off without a hitch.
FUNNIEST PART/PARTS:
-accidentally pulling the trigger of the gun during a take … (don't worry there were no bullets) but … let me state that no character gets shot in the story though … oops
-watching my co-stars jump out of the bushes in ski masks
-amazing gluten-free pizza from craft-services.
NOT SO FUNNY PART:
-having duck-tape taped to my mouth for hours, ripping it off, reapplying, and ripping it off again for what felt like a million takes … ah, the life of an actress.
Check out some on-set pics.  And a huge thank you to all of those who supported.  I'll keep you updated on future screenings and festival info.