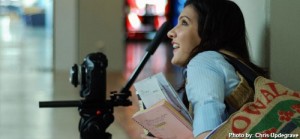 "Fray" works in a similar capacity with an applicable construct in terms of its progression but with a relatable angle that makes it all the more heartbreaking as its progresses. It follows a well meaning Marine back from Afghanistan after an injury leaves him with a gimp leg. This impairs the possibility of him getting work in an already squeezed economy. Slowly but surely, despite his continued perseverance, he can't seem to get ahead. He is helped along by his teacher-turned-lover (Marisa Costa), who slowly falls in love with him. Costa undeniably anchors the film with such a luminescence which balances the brooding but powerful functionality of Bryan Kaplan's performance as Justin. The key within here is structure and making sure these relationships pay off in the end without conceding the need to spoon-feed. "Fray" does this beautifully contrasting the dark but brilliantly forest backdrop with a sense of foreboding. 
The Inside Reel is an award winning nationally broadcast television program and website which covers the film and television industry. Featuring celebrity interviews, behind the scenes segments, industry commentary, and film festival coverage. Broadcast on both cable and closed-circuit to over 100 college campuses on SirkTV (formerly Zilo Networks), the show is now in its 10th season and reaches over 5 million viewers.
Inside Reel Specials have also been broadcast on PBS New York and Los Angeles. Marilyn Moss of The Hollywood Reporter called The Inside Reel: Digital Filmmaking special "a must see for anyone who loves movies." The program has been sponsored by Fujifilm USA for over 7 years and other advertisers have included Paramount Home Video and HBO. The Inside Reel archive has over 4000 interviews with actors, producers and directors.