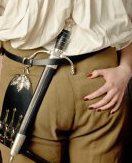 My play opens at the Old Vic Studio on June 28th.  I play the boldest of the three Spanish sisters who turns the world upside down, breaks all the rules, and proves to her sisters that they can live the lives they want.
"There is no altering destiny, sir." – Valeria, The Rover
"SEX and SWORDFIGHTING" might well have been the pitch had Hollywood been around when Agent 160, aka Aphra Behn, penned her wild, swashbuckling comedy in 1677.
The monarchy restored, the Cavaliers returned and Aphra Behn finds time, between being a spy for the Crown in Holland, being an inmate of a debtor's prison and (possibly) being the mistress of James II, to storm the Restoration stage with this triumphant crowd-pleaser.
Set back in the years before the Restoration, we meet a roving band of exiled Cavaliers intent on a drink-fuelled weekend of debauchery at a Spanish Carnival. Equally out for adventure, we find three Spanish sisters, masked and dangerous.
Who will be pursued? Who will be the pursuers? Uncover all in this careering crucible of wit, ribaldry, mistaken identities, romance and frayed tempers.
For more see  oldvic.ac.uk
---
The Rover
Thu 28-Sat 30 Jun
7.30pm
2.30pm (Sat & Thu mat)
£15/£10 concs
All tickets £10 on Thu 28 (matinee only)
Ages 12+