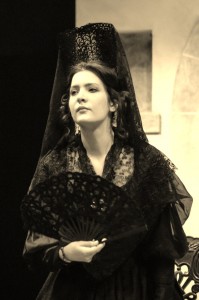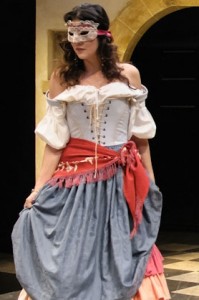 An actor lives a life of dualities.  When it comes to a rehearsal process, these dualities are three-fold.  1) The actor and the character; on stage we create characters who may or may not have any living similarity to our own innate character.  While some character's seem to "make sense" to us at the on-set, others require time and work to understand.  2) The character's inner world vs. outer world; as in life, characters on-stage have a public persona (the way they interact with the outside world) and a private persona (their internal life motivated by their own secret desires).  Ellen Barkin said "Acting is a giving away of one's secrets."  It is our job to find out what the character's secrets are and slowly let them trickle out into the stream of the story.  And 3) in the rehearsal room, the separation of the personal from the professional; every rehearsal space is filled with little (or big) artistic schisms and such discord is to be expected, in (what needs to be) such a collaborative space.  Often times the actor has to balance the duality of appeasing their director while staying true to what their own inner artist is trying to express.  Balancing these three dualities in the rehearsal space isn't always an easy task and every rehearsal is a great opportunity to practice what doesn't come easily.  Here are some thoughts I had in my most recent rehearsal process in an attempt to find and maintain my own balance.
ACTOR VS THE CHARACTER
In the beginning of rehearsal, while you're still in the early stages of exploring who your character is (i.e.: his/her background, desires, thoughts, flaws and motivations)… stay open.  Allow for movement and change.  If you set an idea in stone it will be harder to make new discoveries as you go through the rest of the rehearsal process.
Do not bring your own personal baggage in to a rehearsal, or leave the rehearsal with the character's baggage.  It is your job to show up 100%.  Everyone has personal tragedies, disasters, or at the very least stresses in their day-to-day.  Leave them at the door.  The best and most consistent way to do this is to show up early with plenty of time to warm up, meditate, and get in to a neutral mind and body.  Don't skip this part of rehearsal.  You have to start from a place of neutrality.
PUBLIC VS PRIVATE PERSONA OF THE CHARACTER IN THE PLAY
My character in "The Rover" had a very different public and private persona.  In Public, she was an obedient daughter and sister of a staunch Catholic Family in 17th Century Spain.  In Private, she was a rebel and mastermind of a plan for her and her sisters to escape their home, in search of the free and debaucherous lives of gypsies at Carnival time.  The play "gets good" when the Private and Public worlds collide because the stakes of the play depend on this clash.  It was my job to create this multi-dimensional character so that the audience understands and connects with what is at stake.  In order to do that, I had to dig deep and do the work.  Usually this requires a commitment to work outside of rehearsal as well.  For me it starts with script analysis first.  Sometimes I find it helpful to color code my script.  Pick one color for Private persona and one for Public and mark in the script when and where I think each one is operating
PERSONAL VS PROFESSIONAL OF THE ACTOR IN THE REHEARSAL SPACE
Actors don't always agree with their directors.  I have seen fellow actors storm out of rehearsal room and rebel in all kinds of ways.  I remember in high school an actress that performed with me in Tina Howe's "Museum" had decided on opening night that her character needed to be pregnant.  When she approached the director with her idea it was, of course, immediately shot down; A) It was opening night and B) we were, after all, in high school.  The actress decided to go on anyway with a pillow stuffed under her shirt aka Fanny Brice in "Funny Girl."  Funny?  Yes.  Professional?  No.  Of course being in high school the consequences were small, but certainly the anecdote holds true in a professional setting.  Be a rebel, but don't rebel.  In other words, have a mind of your   own, but don't disregard your director's.  Find ways to insert your own ideas into your performance without a complete disregard of the way you've been directed.  During my   most recent rehearsal experience I saw an actor walk out on a rehearsal during a heated discussion on the meaning of a line.  Do not take up rehearsal time arguing with your director or walking out on them.  Both behaviors are beyond unprofessional and discourteous to the rest of the artists you are working with.  Don't be a stick-in the-mud.  Listen to your director.  Try their suggestion first and with all your focus and heart (don't half-ass it).  If it doesn't work, trust that your director will see it and move you in another direction (maybe even your own).  The bottom line is, you were hired for a job.  If you don't want to do it, you can always quit, but I'm of the mind that it rarely needs to come to that.
In closing here are my Top 10 Rehearsal Do's & Don'ts.  Hope you find them helpful.  They work for me. If you want … you could copy and paste them into a word document, print them out, and tape them to the inside cover of your rehearsal binder or script.  I did! Please share any more that you, my fellow actors, come up with.  I would love to hear about your own rehearsal schisms and ways you meet the challenges of balancing so many dualities.  Have a great rehearsal!
DON'T CEMENT YOUR INITIAL IDEAS
DO STAY OPEN TO NEW DISCOVERIES
DON'T BRING YOUR PERSONAL BAGGAGE INTO REHEARSAL
DO ALLOW TIME FOR A WARM UP
DO YOUR HOMEWORK
DO SAY YES
DO ASK QUESTIONS
DO VOLUNTEER YOUR IDEAS
DON'T TALK NEGATIVE ABOUT ANYONE ELSE
DO REMAIN POSITIVE